US Water Systems – Reaching the first 1000 Subscribers on Magento 2
Connor Asman
April 12, 2021

A case study on US Water Systems showing how adding a subscription option increases revenue and improves the user experience for your most loyal customers.
A good subscription program has tons of benefits.  At a high level, loyal customers have a convenient way to automatically reorder products they need and eCommerce merchants gain a more consistent revenue source.  Our client, US Water Systems, decided that a subscription program was a must-have for their site migration from Netsuite Commerce to Magento Commerce.  Let's take a look at how setting up this program created a better customer experience and increased eCommerce revenue.
D2C Since the Garage Days
In 2001, US Water Systems was started in Mark and Patty Timmons' Indianapolis garage.  From the very beginning, they chose to sell directly to consumers and did not go the traditional route of selling to brick-and-mortar retailers.   Since then, US Water Systems has become one of America's top providers of commercial and whole-house water filtration and treatment systems.  Beyond that, they have also expanded into water treatment for laboratories and craft breweries.  They credit their success to treating customers like family – with mutual respect and high levels of customer service at the core of their values.
US Water Systems has found a ton of benefits in the D2C model.  They can provide better prices and they have more control over the entire customer experience.  One challenge of that, however, is the responsibility to make that experience exceptional.  For US Water Systems, this meant that they wanted a top-notch website with a world-class subscription program.
Building the Subscription Program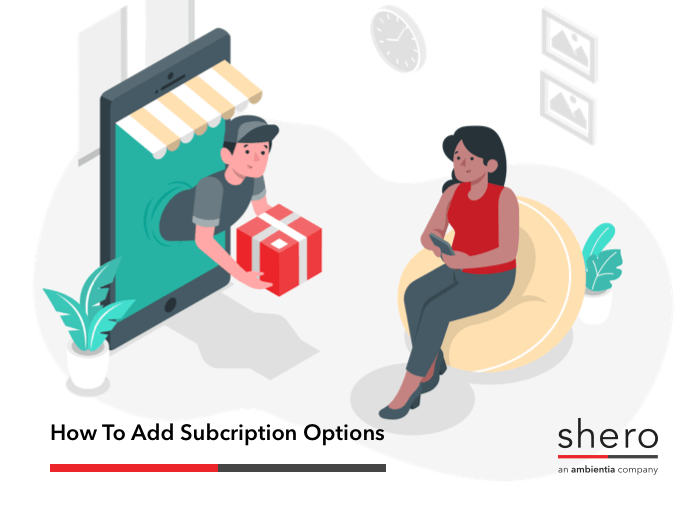 Their first step was reaching out to Shero Commerce.  Shero is a systems integrator partnered with Subscribe Pro known for their ability to improve website functionality and appearance. The goal was to migrate the site to Magento Commerce while also improving search functionality and modernizing the overall design.
The eCommerce site was at the center of US Water Systems' D2C model.  It provided a better experience for one time orders, but many of these orders fell into the replenishment category – a category well-suited to subscriptions.  Customers would buy a water treatment system and then have to remember to reorder filters and other consumable products.  Because of this, the company was very interested in incorporating a new subscription program.
They'd contemplated a subscription service for a while, in hopes of increasing recurring revenue.  The filtration systems they sell aren't repeat purchases themselves, customers have them in their home for around 15 years. But their line of consumable products, like water filters that support these systems, need to be replaced regularly.  By subscribing, customers can have replacement filters sent automatically to their homes, prompting them to replace filters at the correct interval.  This creates more predictable revenue for the company and, most importantly, a better customer experience.
Shero presented a few options for subscription services and Subscribe Pro was chosen particularly because of how well it integrates into Magento and because of its robust features and commitment to customer service.  Subscribe Pro's unique way of automating the reorder process by building out a cart through the website's checkout process means that customers can see their subscriptions next to one time orders.  Customers can easily modify or cancel their subscriptions and US Water Systems gained access to a wide array of reporting features so that they can monitor and improve the subscription experience for their users.
Shoppers can now subscribe to regularly receive filters with carbon, PFOA filters, or membranes that usually need to be replaced every one to three years (popular at places like coffee shops, breweries, or labs).  Customers no longer have to worry about remembering to order these products every few years.
While building the eCommerce website, US Water Systems waited to implement Subscribe Pro.  They thought it would be complicated and take a ton of effort because of their deep product catalog.  However, in their case, implementation was significantly faster than they expected!
With implementation complete, the next step was to get customers to sign up.  To incentive this, US Water Systems ran a discount program with a goal of having 1,000 subscribers within a year.  Subscribe Pro supported this program through a set of pre-packaged incentive options, configurations for ongoing discounts, and education on best practices.  These options plus our reporting features set US Water Systems up for success.
Results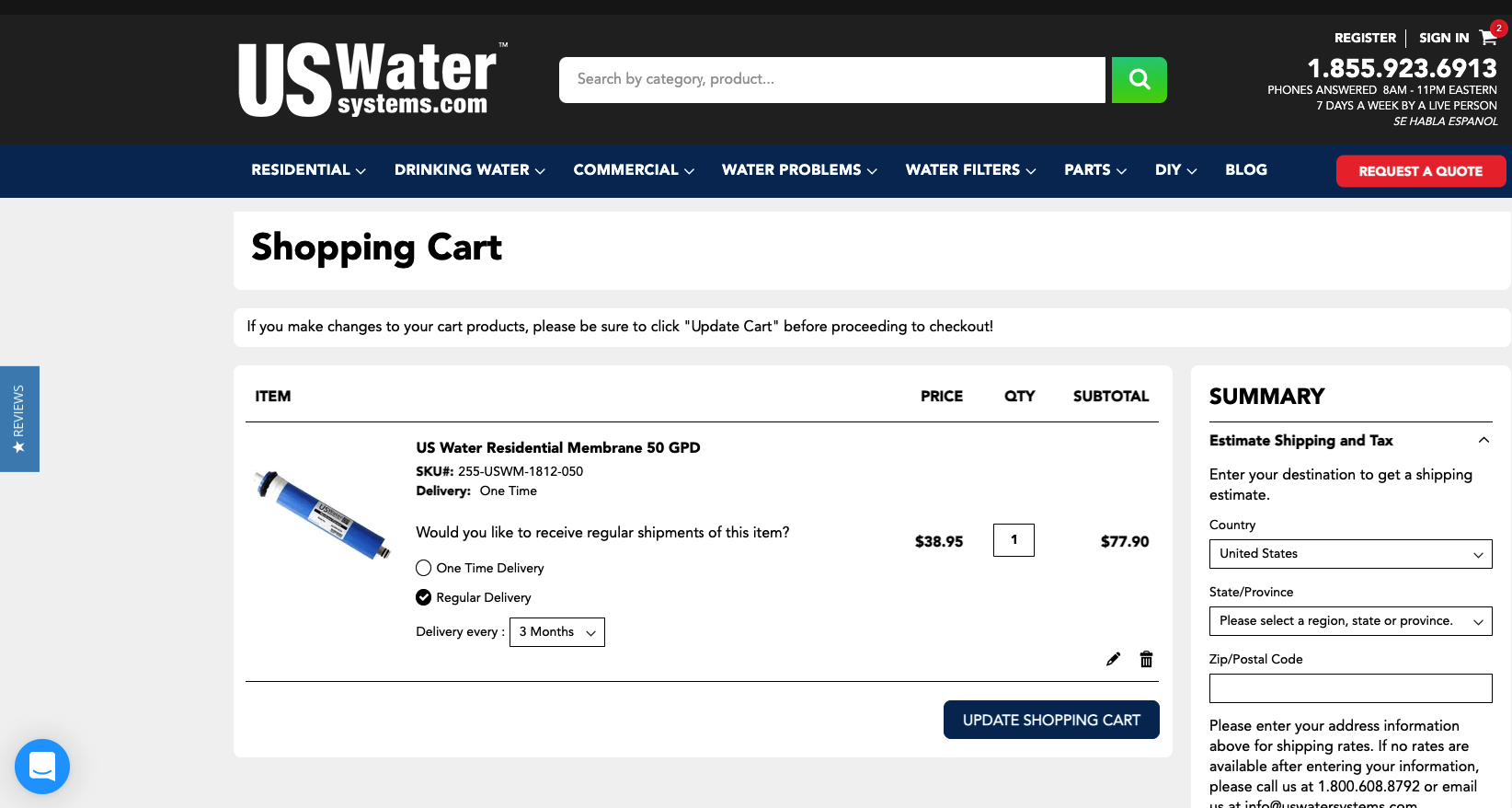 After a deep discovery phase of US Water Systems' user experience, Shero updated the site to bring focus on educational content and easy navigation.  Customers can now find the information they need to make a purchase decision faster and easier than ever. Each category and product page is an educational experience aimed at helping customers make the right selection. This, combined with clear navigation, robust search functionality, and bold calls-to-action, help to make shopping for water treatment supplies a painless experience.
As for that goal of reaching 1,000 subscribers?  They nailed it, and those numbers continue to climb.
Adding Subscribe Pro's solution led to easier customer communications, thanks to the automated email service it provides.  Subscribe Pro automatically sends messages letting customers know when their card is about to be charged, when their information has been changed, when their order has been shipped and a host of other email options are available as well.
According to Kristi Williamson, former VP of Business Development & Marketing at US Water Systems: "Communication is king when it comes to recurring orders, and we no longer need to use a third-party service for email communications."
This story is just one example of how partnerships with top-quality companies can benefit your business.
Interested in learning more about how to incorporate a subscription program on your eCommerce site?  Set up a free demo and we'll find a solution that works best for your business.