Keep Your Eyes on These KPIs – Part 2
Subscribe Pro
October 26, 2016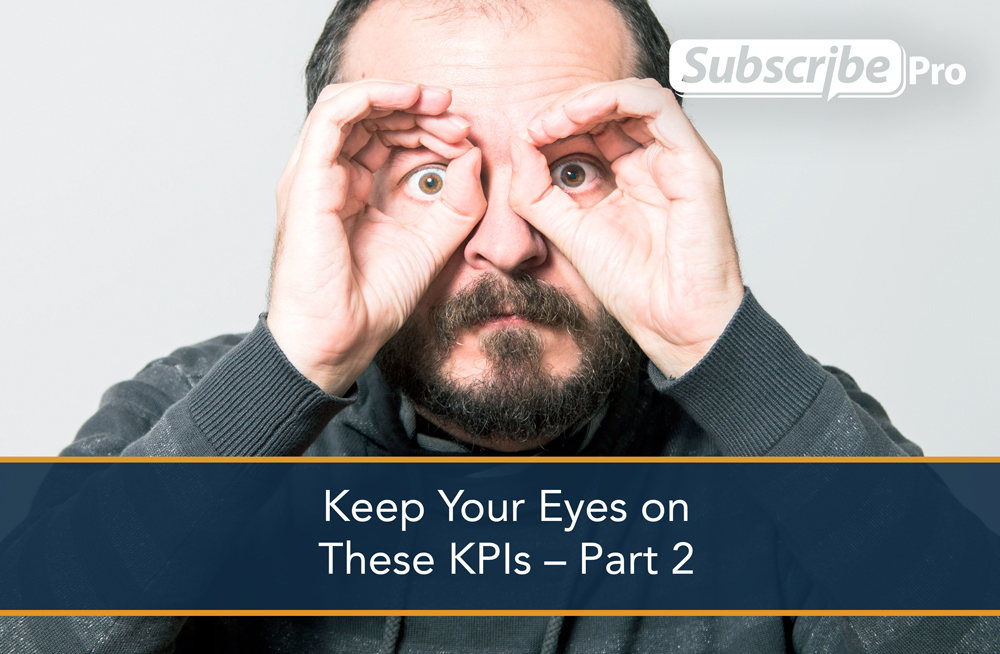 This is Part 2 of our series exploring important KPIs for subscription commerce businesses to pay attention to. Be sure to check out Part 1 to learn about customer acquisition cost, customer lifetime value, and inactive subscribers.
In our previous post about KPIs, we described three of the most important metrics to pay attention to in order to make sure your business is healthy and growing. There are two more key performance indicators (KPIs) that every subscription commerce company should follow. While these KPIs may perhaps a less vital to top-line revenue, understanding and monitoring them can greatly contribute to improving the KPIs we previously discussed. Let's dive in!
Average order value
The average value of an order has a direct impact on the Customer Lifetime Value (CLV). Essentially, the higher the value, the higher the CLV. And the higher the CLV, the better your margins (typically). When you're selling subscriptions, though, the process of increasing average order value is slightly different from when you're selling one-off purchases. Once they subscribers, customers may or may not be back on your website until it's time to renew, and therefore you may not have the same number of opportunities to up-sell them (and thus increase average order value).
One of the easiest ways to increase average order value for subscription commerce businesses is to set a threshold for free shipping (everyone loves to get free shipping, right?). Let's say you set your threshold for receiving free shipping at $75 order value, but your average subscription cost is only $50. By up-selling these customers with either a larger subscription or with other products so they can trigger free shipping, you'll have effectively grown your average order size by 30%, and consequently your CLV by as much.
One more note about up-selling: Consider creating a "premium products" subscription and then offer that to your most loyal customers. Basically, you'll be giving them more of what they already love, allowing them stay subscribed longer as well as increasing the value they get from their subscription over the long term.
New then canceled subscriptions
This metric shows you how many new customers canceled within the first month. If this number starts trending upwards, you may have a problem with your subscription offer. For example, if you get 50 new customers in a month, but 30 cancel before the next autoship occurs, it's possible they're treating their subscription like a one-time purchase. This happens usually when an initial subscription is too heavily discounted. One way to solve this problem is to better incentivize staying with the subscription. For example, you may offer a special bonus product for subscribers who renew, or possibly an ever better discount on longer term subscriptions.
As we mentioned previously, these KPIs are all important to watch if you want to grow your subscription commerce business. If you'd like to know more about how Subscribe Pro makes it easy to keep your eyes on the prize, contact us.