Three Best Practices for Flawless Subscription Fulfillment
Subscribe Pro
September 27, 2016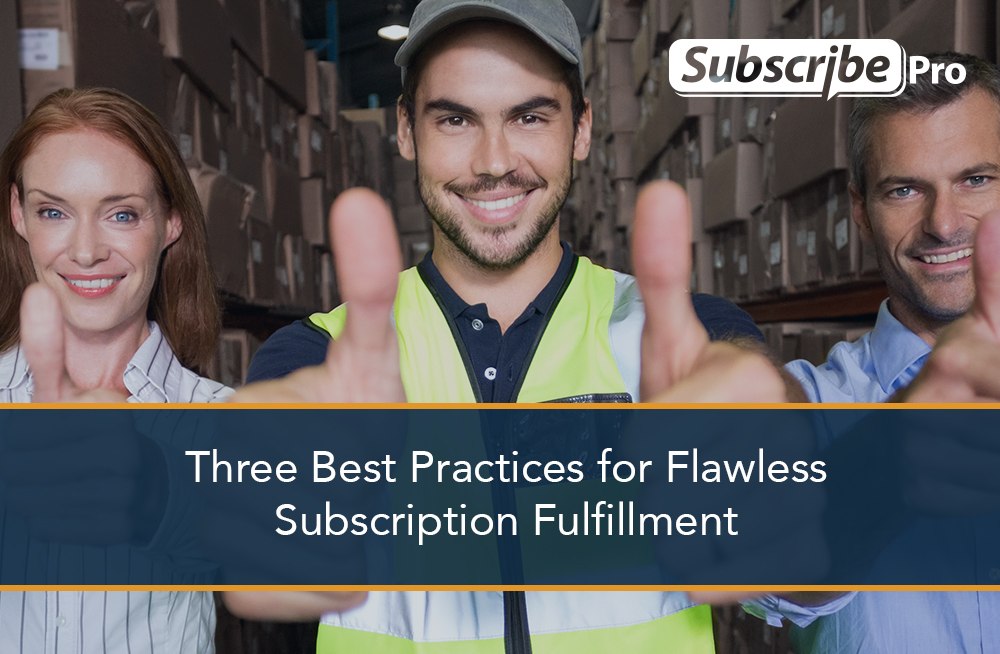 You may have done a great job marketing and selling subscriptions, but if your subscribers don't get their orders in a timely manner on a regular basis, all that work will be wasted and you'll likely see your churn rates sky rocket. Fulfillment is the "last mile" for subscription commerce businesses, and like any other part of your business, it's essential to get it right.
There are many complexities involved in fulfillment, but here are three things we believe are the most crucial to success.
1. Outsourcing vs. insourcing
This might not be the first step in developing a fulfillment system, but it is definitely something a smart subscription commerce merchant will want to think about early on in the process. Outsourcing is generally more advantageous, as it often allows companies to scale without having to add overhead. Of course, your business will likely need to be at a certain size in order to justify outsourcing. And if you do decide to outsource, you'll want to ask questions about not only how orders are fulfilled, but also if they handle returns and other related customer service issues.
On the other hand, if you want to insource fulfillment, you will generally have better control over the entire operation. That's a headache for some, or a fun challenge for others.
2. Packaging
Packaging is possibly one of the most commonly overlooked areas of subscription commerce. If you think just throwing your products into a box with some peanuts or air pillows is enough, think again. You really want your customers to be wowed with their subscription packages each time they open them. It should feel like they're opening a birthday present each time. Spend some time developing and designing that experience, and you'll likely be rewarded with long-term customer loyalty as well as referrals.
3. Integration
Your ecommerce system needs to have inventory management, order management and fulfillment fully integrated into a single package. If you've ever had to manage more than one system to drive an ecommerce business, then you know how time consuming and headache inducing that can be. There are many Magento plugins that can help with each of these aspects, and it's worth your time to find one that works for you.
The good news about Subscribe Pro is that there is no extra system needed to manage subscription fulfillment! When you use our software, subscription orders are placed directly through your Magento system, and are processed in your normal fulfillment system. That means that each subscription looks exactly like any other order to fulfillment warehouse. You don't have to do anything else or manage anything else.
If you're looking for flawless fulfillment of your subscription commerce offerings, contact us. We'll get you up and running, so you can get back to growing your business.