How to Start a Monthly Subscription Business
Subscribe Pro
September 13, 2016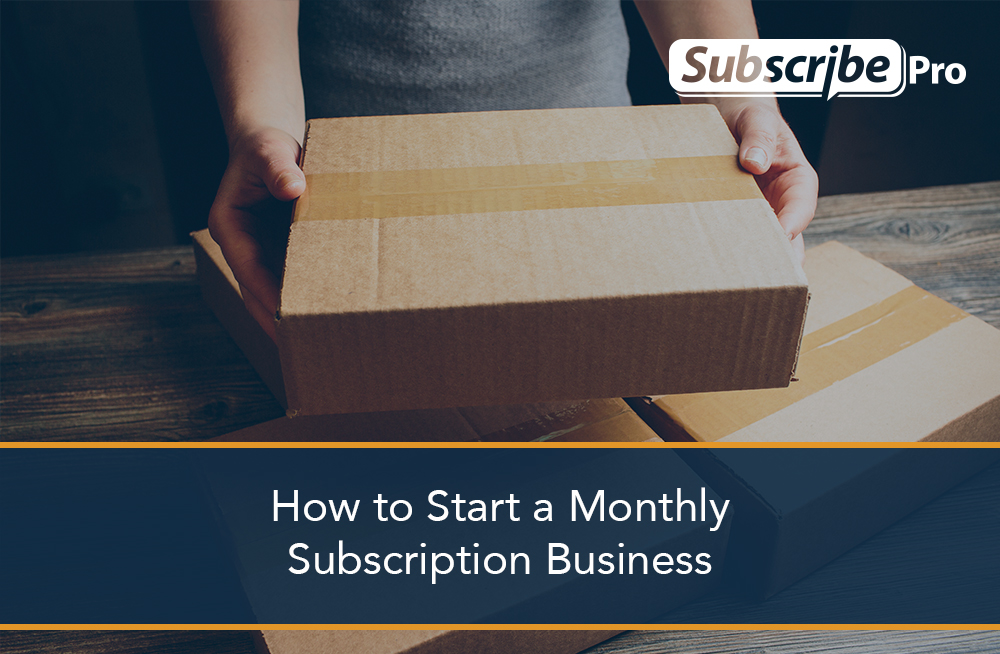 There are a lot of advantages to starting a monthly box subscription business, or adding one to your existing ecommerce business. We put together this list of things you'll need to consider for launching a successful subscription business.
Determine what you want to sell. If you already have an ecommerce business, building a bundle of products may be easy. It could be a group of some of your best sellers or highest profit margin products. If you don't have an ecommerce business yet, you'll need to think of a product category that you think you want to sell. Typically, it's best to focus on a niche, ideally something that doesn't have a lot of competitors. If you're looking for ideas, check out this site that has a pretty comprehensive database of boxes across many categories.
Identify your customers. Just like any business, you need to know who your customers are. There are many ways to uncover this, but we suggest at least start with your own intuition. List out at least three different types of customers and create a profile for them. That can include:

Basic demographics like age, gender, income, etc.
More advanced psychographics such as interests, hobbies and lifestyle choices
Media consumed, social networks most used, etc.

Next, you'll want to test some of these assumptions. An easy way to do this is Facebook ads. Spend $50 per audience on promoted posts on Facebook, and use that to promote a simple concept about your product(s). See which audiences respond best. This will also help you when you get to stage 5—pre-launch sales.

Source your product(s) & determine profit margins. This is a key step in setting up a box subscription business. You need to have reliable sources of products. The great thing here is that as your business grows, the costs to source your products often goes down!
Set-up an ecommerce site with subscription software. If you already have an ecommerce site, setting up a monthly subscription service can (and should) be relatively simple, as it often comes down to installing, configuring and customizing a plugin. At Subscribe Pro, we specialize in Magento ecommerce sites. Of course, if you don't have a site yet, you'll need to build one (or have one built). You'll also need to explore how you're going to fulfill orders, whether that's done in house or through a fulfillment partner.
Build buzz/Pre-launch sales. Once you get close to launching, meaning your site is set up, your products are sourced, and your customers are identified, it's time to start promoting your box subscription. The goal here could be to do some pre-launch sales, selling your box prior to actually launching, or it could just be to build your email list to notify people about the launch. And, because you've already tested audiences on Facebook, you already have an idea of what audiences respond to what messages! This is also a good time to offer an incentive for first-time subscribers.
Launch and ship first round. Once you've built up a critical mass of initial customers who have pre-bought your subscription, you're ready to ship! But it's not just a matter of getting the orders out the door (though that's certainly important). It's also a time when you announce your launch. That means sending an email to your full email list, your friends, your family, etc. It means potentially sending out a press release and few free boxes to media to get reviewed. It means putting some more money into strategically paid ads. It's also a good time to offer an incentive for new subscribers.
Analyze, refine & repeat! After a month, or even two to three weeks, you'll probably have enough data to analyze. A few metrics to keep an eye on are:

Cost per acquisition: this will be higher when you first start out
Average profit margin: How much are you making on each subscription
Subscription length/type/value: If you offer a variety of subscriptions (which you will likely develop over time), it will be good to pay attention to which subscriptions sell best.
Paid media conversion rate: focus on which channels best turn clicks into subscribers
We recommend you review your metrics on a weekly, monthly and semi-annual basis to identify trends and improve site performance.
Looking to implement a subscription program on your ecommerce website? Reach out to us. We'll get you started!